Above is The actual wiring as found in Roy Buchanans 1953 Tele® that he nicknamed "Nancy" - be sure to hook up the input jack as normaly done on all the schematics - so the hot from the jack goes to the center lug on the volume pot. and the black gets grounded to the back of a pot.

The Original Caps found inside Nancy, were as follows,
Tone had a Ceramic Cap ( smaller then a dime) read, .050 & 100-volt - its a darker red colored cap - pehaps its a vintage Gibson® made by Sprauge ?

the other cap acts like a filter - as it is hooked in series on both sides of the 3 Way Switch - it was a small round tube shape, its a Black colored, Aerovox® Brand , it read .1 & 150-volt

"I've never found these caps but I will always look, Don"
A good subsitute is old vintage Paper in foil' caps - use those for the, "in series cap" and for the tone get a old mid to late 60's RMC .050 & 100 volt Ceramic" Fender used these - its the same cap as Fender used in the White Woodstock Strat® Hendrix used.
3-Speed Sting Ray - uses the stock control plate - 3-way -for Esquires®
Or for Teles®, Get a on/on/on Mini Toggle switch, these will also work on 3-taps, see new*drawing at bottom of page below,....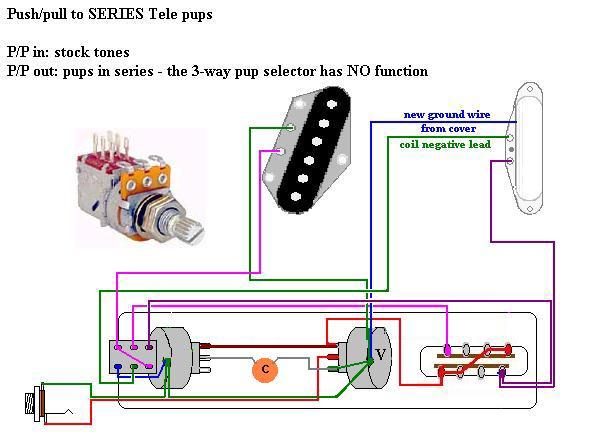 Tele Is A Registered trademark of Fender FMIC, which I have no affilation
TONE BY PASS / PUSH PULL POT